Each of the popular timbers have some characteristics that could affect the final outcome of your finish and determine the impact in has on your bedroom. Before choosing your type of timber, your stain, varnish or finish, it is important to know a little about the timber you will be choosing.
What is Tasmanian Oak?
Tasmanian Oak is a premium Australian hardwood timber found in areas of Tasmania, Victoria and South East NSW. It is a versatile timber perfect for both construction and interior applications.
How does it look?  
Warm, dense and resilient, Tasmanian oak works extremely well and produces an excellent finish. Light in colour, varying from straw to reddish brown with intermediate shades of cream to pink, it is renowned for its excellent staining qualities, which allows it to be easily and seamlessly matched with other timbers, finishes or furnishings.
How can it change my bedroom's look and feel?
The type of timber you choose can have a significant impact on your rooms overall appearance and feel. It is a key component of the style, mood and atmosphere you are trying to deliver. Whether you are going for a traditional or classic look right through to an ultra – modern and sophisticated look, the timber you choose plays an important role.
What are some examples?
The Balmoral bedroom suite is made from premium Tasmanian oak to give you long lasting results and quality support. It is finished in an elegant dark stain that exudes sophistication and makes it a valuable addition to any bedroom.  The Tasmanian Oak option lets you take advantage of ones of its main benefits – it is easily matched with other timbers, finishes and furnishings to create a complete natural bedroom feel. Combine the Balmoral bedframe, bedside, tallboy and Balmoral dresser and mirror for a sleek and sophisticated bedroom.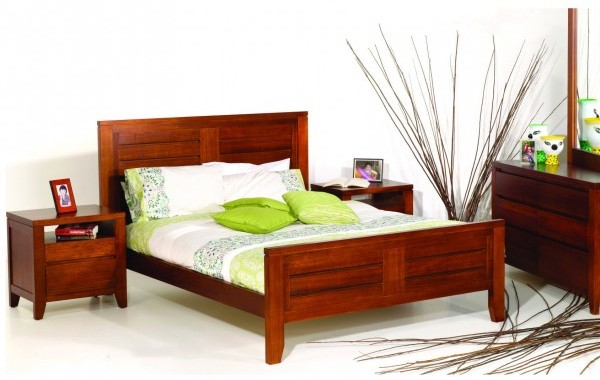 Why Choose Tasmanian Oak?
Aesthetically Pleasing
It is Long Lasting
There are a range of Colours, Textures and Grains available
Takes adhesives and finishes well
Easily matched with other timbers, finishes and furnishings
Versatile
It is suitable for all woodwork joints
We have a massive range of quality beds and bedroom furniture that can be fully customised in your choice of timber, colour and finish. You can always get the product that is just right for your specific needs, wants and unique living spaces.
Want to know more about Tasmanian Oak and how it can benefit you? Simply talk to one of our experienced Bedworks staff today.