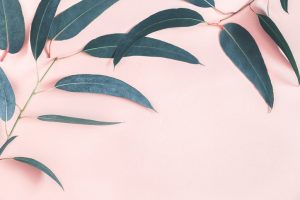 A Guide To Our Natural Coating
For many of us, environmental sustainability is a top priority. As conscious consumers, we all strive to make as many purchasing decisions as possible that protect – rather than harm – our precious natural environment.
Here at BedWorks, we share these concerns. Yes, we want our products to look fantastic, feel comfortable, and last years and years. But, we also want our beds to contribute to the growing movement toward sustainable manufacturing.
That's why we have committed to using eco stains – natural, environmentally friendly timber coatings that are decorative, low-impact, and kid-safe.
In this article, we will take a good, hard look at our natural coating in a little more detail. Have a read and learn how this innovative technology can help you and your family enjoy sleep sustainably. Let's get started.
Choose eco stains for a sustainable sleep
You've made the switch to reusable grocery bags. You've said goodbye to plastic straws. You've even installed solar panels onto the roof of your home – you know renewable energy is the future.
The next logical step? Investing in sustainable sleep.
If you're in the market for a new timber bed, chances are you're shopping around, looking for a great deal or must-have design. But, have you made environmental sustainability one of your top priorities? If not, you should.
Between the fossil fuels burnt and harmful chemicals used, manufacturing processes can wreak havoc on the environment. Why not opt for the green option if you can?
Here at BedWorks, we are proud to promote this environmental message by ensuring our products meet strict environmental safety standards. Our stunning timber bed frames are crafted using sustainable plantation timbers finished with industry-leading, German-made Livos natural sealing products.
These incredible eco-friendly stains produce a truly inspiring natural finish using only organic compounds. That means Livos stains are kinder to the timber, your family, and our planet.
Peace of mind with non-toxic natural sealers
Most timber products are finished with a stain or sealer of some kind. Unlike traditional sealers – which deposit a chemical-laden film of plastic over the timber – Livos stains are non-toxic, natural, and incredibly protective.
The Kunos range (our team's favourite) of sealers, oils, and wood stains impregnates – rather than covers – the wood. The result: a smooth, attractive, shielded finish that enhances the natural grains and cut of the timber.
The benefits of going green
If you want to reduce your environmental footprint, select a bed frame that utilises the latest in green technology. In addition to minimising your negative impact on the environment, eco stains offer a whole host of small- and large-scale benefits.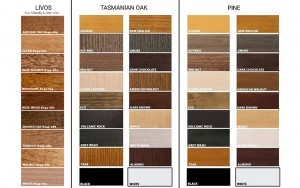 Here are just a few of the game-changing advantages of Livos eco stains.
Ecologically sustainability. This means their products use organically sourced, natural, and raw materials.
Recyclable packaging. Minimise your contribution to landfills.
Livos products cause no harm to the environment.
Less product is required. Our team uses a small amount of sealer to achieve a truly remarkable result. This means less manufacturing and, ultimately, a smaller carbon footprint.
Diverse colour range. No matter the style of your interior, you will find a Livos stain that complements your existing decor.
It doesn't end there.
One of the primary reasons so many of our customers choose BedWorks products is this: they have children or pets. Kids and our beloved furry friends can be particularly sensitive to harsh chemical smells and airborne pollutants. Eco stains are non-toxic, meaning they pose little to no risk whatsoever to even the smallest members of your family.
Our four-step application process
Our team is committed to quality every step of the way – when you purchase a handcrafted custom bed frame from BedWorks, you know you are getting the best of the best.
Applying the sealer or stain is one of the very last steps in the construction process. Our Australia-based team follows a thorough four-step protection process that yields gorgeous, long-lasting, flawless results every time. It works like this:
Step 1: Apply the stain
First, we apply the stain or sealer to the timber. Stains are available in several natural shades, ranging from bright white and clear lacquer to deep smoke and dark chocolate.
Step 2: Apply the oil
Then, we apply a generous coating of nourishing Kunos Oil. This locks in the stain for a deep, vibrant colour that'll stand the test of time. It also hydrates and protects the wood.
Step 3: Allow to dry
We allow the stain and oil combination to dry for at least 24 hours. This gives the products ample time to adhere to the timber properly.
Step 4: Repeat the process
Finally, we repeat the entire process again from start to finish. By applying two coats of stain and oil, we can achieve a smooth, even finish.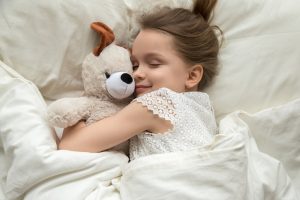 The short answer: everyone! Every household can benefit from introducing more eco-friendly products into their homes. That being said, our sustainable beds are even more beneficial to certain families and individuals.
Eco-friendly stains for those with allergies
Allergies can be a real nightmare – especially if you are allergic to day-to-day things like dust, pollen, and the nasty chemicals found in cleaning products and other household items.
Opting for hypoallergenic bedding and furniture can make a world of difference to your quality of life. How? By reducing the presence of allergens in the air.
Natural-based wood finishes are highly recommended for those that live with allergies.
Sustainable bedding for families with young children
Your child's health and wellbeing are of paramount importance, and you want nothing more than to give them a happy, harm-free environment in which to live, play, and grow.
Traditional wood finishes are packed with chemicals that can vaporise and become airborne. These particles can then be inhaled by anyone and everyone living in the home. Young children are particularly susceptible to harmful air pollutants, so it's best to take every precaution possible.
Natural wood finishes for pets
Similar to children, cats, dogs, and other pets may have adverse reactions to the chemicals found in conventional finishes. By choosing an eco-friendly, non-toxic alternative, you can have peace of mind that your furry friend is out of harm's way.
Environmentally friendly timber stains for those with other medical conditions
Some medical conditions, such as asthma, can cause sufferers to become sensitive to environmental factors. In these instances, it's ideal to choose a natural product as this reduces the likelihood of an adverse reaction.
Our eco-friendly products
Purchasing a new bed frame is one of the most significant design decisions you'll have to make. You already know you want an eco-friendly product – now, it is time to decide what, precisely, you want your bed to look like.
Lucky for you, the team behind BedWorks offers a versatile range of contemporary bed frames that deliver on environmental sustainability and on-trend styling. Here's a quick overview of our stunning, ever-evolving range of custom, naturally stained timber bed frames.
Standard beds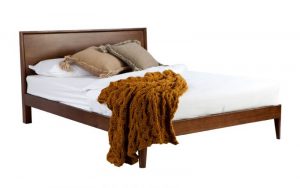 For standard timber beds that are anything but ordinary, you simply cannot go wrong with our effortless collection of custom timber bed frames. Our range includes low-profile, space-saving designs, as well as styles that make a statement.
Whichever you choose, your bedroom will look fit for the pages of an interior design magazine!
Four-poster beds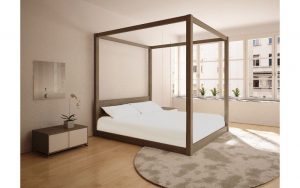 Img: https://www.bedworks.com.au/bed-frames/timber-wood-beds/four-poster-beds/760-sunny-four-poster-custom-timber-frame.html
Four-poster beds have come a long way in recent years. Today, these bold, contemporary designs are coveted the world over for their inspiring simplicity and ultra-modern vibe.
Here at BedWorks, we offer several four-poster custom bed frames. If you're a fan of minimalist interior design, you will love our Sunny Four-Poster Custom Timber Frame. Or, for something that combines the best of both standard and four-poster bed designs, check out the Cube Custom Timber Frame.
Low beds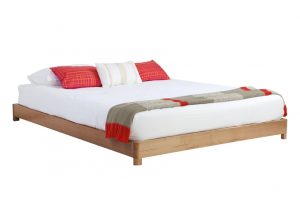 Incorporate a little Scandinavian design into your home with an ultra-low-profile bed. These refined bed frames sit low to the ground, creating an extremely cosy, comfortable atmosphere.
We offer several customisable, Australian-made, eco-friendly low bed designs. If it's something basic you are after, you might like the Rounded Corner Customer Bed Base. If it's something a little more romantic you want, our Sara Sleigh Custom Timber Bed is a popular choice.
Make your contribution to environmental safety today
Whichever design you choose, when you shop our custom range of bed frames, you can rest easy knowing that your purchase isn't contributing to nasty pollutants. Not only are you protecting the planet, but you are also giving your home and those that live within it the happiest, healthiest environment possible.
All of our custom bed frames are made here in Australia by a team of committed craftsmen and women. We are so confident in the quality of our workmanship that all of our custom timber products are backed by a two-year guarantee.
So, what are you waiting for? Invest in sustainable sleep today and treat yourself – and our planet – to the highest quality, fully customisable bed frames on the market. And, if you have any questions or concerns about us, our products, our delivery service, or our environmental commitment, please don't hesitate to get in touch with our friendly team today on 1800 980 776 or at sales@bedworks.com.au.
We are committed to a green future. Are you?