Buying a new mattress is a big decision. We spend the equivalent of a third of our lives in bed, and once you've chosen a mattress, you spend at least 7 and up to 10 years with the same one. That's a lot of time! During that period, you rely on it to stay soft and comfortable, give you back support and relief on your joints, and help you get that all-important shut-eye every night. No wonder the task can seem overwhelming. Luckily, Bed Works is here with our best tips from years of experience in the mattress game. When it comes to finding the best mattress for you, look no further than our handy guide.
The ultimate guide to buying a new mattress
First things first; shopping for a new mattress means getting your priorities in order. There are lots of choices and options for customisation when it comes to mattresses, and it's possible to become overwhelmed or sidetracked by fancy features that may not be exactly what you want. Before you start browsing, try setting your top three must-haves in a perfect mattress. Maybe you love a mattress that will conform to your shape over time, or perhaps a cooling effect is the most important aspect for you. Perhaps you're dreaming of a luxurious, ultra high mattress that feels pillowy and decadent, or you might prefer a springy feel and a lower profile that makes getting in and out of bed easier. Whatever they are, make note of your top three features and remember to go back to them and reevaluate when making your choice.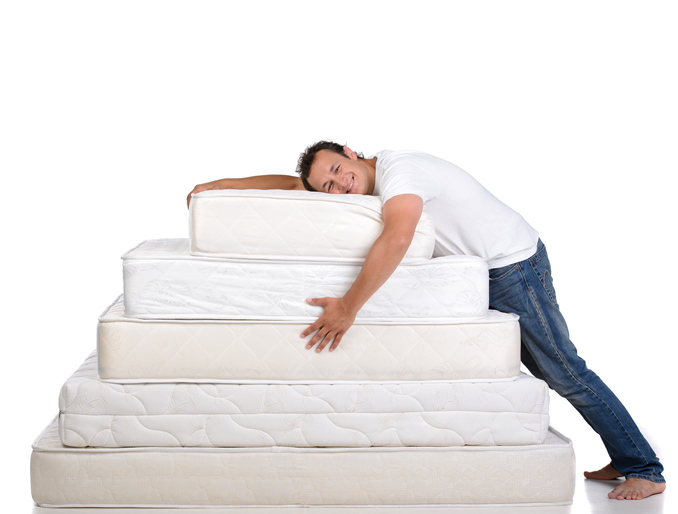 When should I replace an old mattress?
The general advice is that mattresses for adults should be replaced between every 7 and 10 years. Of course, a range of factors may require you to replace a mattress more quickly than this. If you start to notice sagging, discolouration, or you can feel the coils in your mattress poking through, it's definitely time for an upgrade! Squeaking and any deformations in the shape are also signs you need to invest in a new mattress.
What to look for when buying a new mattress
There are more materials than ever to choose from when it comes to selecting a new mattress, but some of the most popular are latex, pocket springs and memory foam mattresses. At Bed Works, we stock a variety of each type, along with hybrids that combine the best of both worlds. To help you choose, here are the main features of each.
Memory foam — Fans of memory foam love its contouring effect, which holds the body throughout its natural curvature. This can help to relieve pressure and assist with spinal health, and is great for side sleepers as it cushions the shoulders without putting pressure on the neck.

Some reasons memory foam might not be the best for you are that it is relatively dense when it comes to air circulation. Some people therefore find memory foam feels hotter than other mattresses, and it may not suit naturally warmer people or hot climates. The foam also tends to retain a 'memory' of the body shape, so if you don't like body indentations in your mattress, best to steer clear.

Latex — Natural latex foam is layered to create a soft and comfortable quilting effect, which can be used alone or combined with coils and springs in a mattress. They feel very bouncy and offer a good combination of medium density firmness, combined with a soft feel.

The spring back and responsiveness of natural latex foam may not be for everyone. If you prefer to feel more cushioned on your mattress, the traditional fel of coils or the soft 'sink in' factor of memory foam might be a better fit.
Pocket springs — Pocket springs and coil mattresses rely on metal inners to give them bounce and firmness. Because they absorb movement rather than redistributing it, they make a great choice for minimising partner disturbance throughout the night. They also circulate air well.

While well ventilated, spring and coil mattresses may feel a lot cooler during winter or in very cold climates compared to other materials. Over time, a coil mattress may be prone to sagging.
While we might think of it as a big pillow, mattresses are actually pretty complex in terms of technology and materials used. Investing in a quality mattress will make a difference to your sleep, especially at the 5 year mark when your mattress is halfway through its life span. At this point, cheaper mattresses can begin to break down and degrade in quality, while one from a trusted brand will stay as comfy as it was the day you bought it. Plus, quality brands will offer a lifetime guarantee on their products for your peace of mind.
Choosing the best mattress for your needs
Ultimately, finding a mattress you love is about discovering what feels best for you. Mattress manufacturers will give guides and labels that indicate the support and feel of a mattress, but it's worth remembering these are a guide only. Firmness is subjective, so trust your gut when it comes to what feels best on your body. The best test for whether a mattress is right for you is always to actually sleep in it! This is why Bed Works offers a 100 day risk free trial as part of our Comfort Guarantee – so you can feel 100% secure in and happy in your choice for a new mattress.
Bed Works — the best mattress selection in Australia
From the super soft to the springy and everything in between, we pride ourselves on offering mattresses in a variety of materials and styles that promise comfort and durability. Explore stock from trusted brands and Australian made models that will feel as good on night 1,000 as they do on night 1. Our online selection offers a huge range of mattresses and bases to suit any sleep style, preference or budget. Browse online today and discover your new perfect night's sleep with us.
#Investinbettersleep