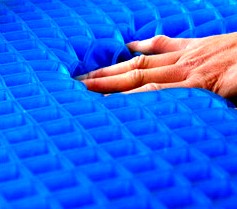 Specialty gel has been used in the medical industry for many years to target pressure point pain and assist in quicker healing and recovery. In recent years, the realization that pressure relief improves sleep quality significantly and therefore can be beneficial to your overall health has become widespread and taken the mattress industry by storm.
Gel Helps Relieve Pressure
By relieving pressure on pressure points as you sleep, your blood circulation improves which means a better oxygen circulation in your tissues and muscles. The end result is better deep sleep and less overall sleep fragmentation.
Less sleep fragmentation on a gel mattress means you will wake up feeling more rested, restored and ready for the day; you will feel more alert and will be able to cope better with work related stress and keep up with your busy life without feeling run down.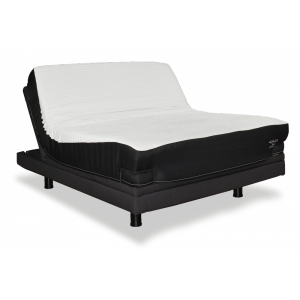 Key Features of a Gel Mattress
Cooling effect: gel encourages proper air circulation inside the mattress so hot air is reduced and dissipated. This is a significant improvement for bed-ridden people or for those that tend to wake often during the night due to feeling "overheated".
Massage effect: The honeycomb structure adheres to your body and massages it slightly, which gives a relief from pressure point pain and aching muscles and helps your body relax from tension and stress.
Lines natural body curvatures: Again, the internal honeycomb structure allows even weight distribution and each honeycomb column can support weight up to a certain point – this means that the parts of your body that need to sink into the mattress can, and the parts that need cushioning support without sinking, don't.
Durable and comfortable: It also resists motion transfer, so when your partner moves around or gets in and out of bed, it won't disturb your sleep.
Balanced support:gel memory foam mattresses are designed to provide extra support where you need it, so you'll have just the right amount of contact.
Pressure relief:Side sleepers often have issues with pressure on their hips and shoulders while they sleep which can keep you from getting good, continuous sleep. Gel memory foam mattress lines your body, so painful pressure points are eliminated.
Spinal alignment:When your body is cradled correctly and the pressure has been taken off your shoulders and hips, your spine is encouraged to align and take its natural shape which will ensure you will not wake up with a sore back.
Antibacterial: inhibit dust mites and fight allergens, making this a great option for allergy sufferers and asthmatics.
Innovative Honeycomb Gel Technology
Gel mattresses are made of flexible materials that give it a gel-like honeycomb structure in the form of columns that all have a built-in ability to carry a certain amount of weight before they buckle. The gel honeycomb can be used well with any mattress technology including inner-spring, memory foam, latex and Orthopaedic mattresses.
The open cell structure promotes air circulation inside the mattress or mattress topping which helps regulate temperatures whilst you sleep. The heat from your body dissipates instead of collecting in your bedding; this means you can enjoy a cool, comfortable temperature all night.
Gel memory foam is a
material like traditional memory foam, so it restricts motion transfer and reduces pressure on shoulders and hips. It's also antimicrobial and very durable. Gel memory foam has been infused with gel beads, giving it more strength, so you don't sink into the bed as deeply. With the addition of gel, you get all the benefits of traditional memory foam without the problems that many people have re: lower back pain in the morning, stiff neck, over heating or pressure pain from sleeping on your side.
Talk to one of our experienced team to find out more about how a quality Gel Mattress can significantly improve your sleep.