AH Beard has a long and proud history spanning over 100 years. King Koil by A.H.Beard is a brand that is synonymous with excellence in creating exceptionally crafted beds and mattresses. King Koil is one of the leaders in mattress design and manufacture; it has a proud reputation for its innovative technologies that are designed to provide outstanding comfort and support.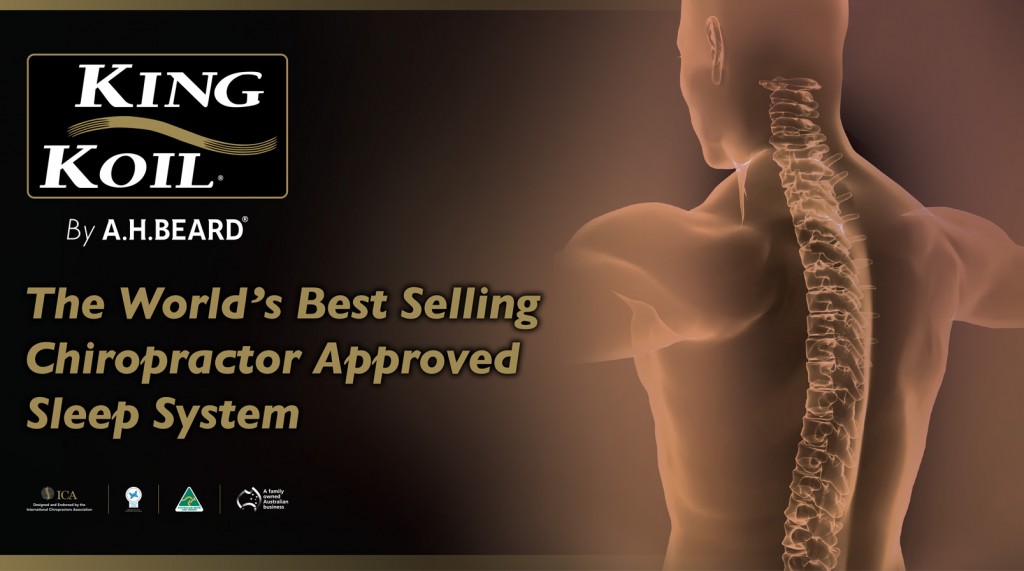 Why Choose a King Koil
A Comprehensive 10 Year Warranty
The entire King Koil range is built to A.H. Beard's highest quality standards and the highest industry standards. Every A.H. Beard mattress is backed by a full 10-year warranty.
Certified by Good Environmental Choice Australia
King Koil utilises the worlds most advanced foam making technology – Evofoam. EvoFoams in the comfort layers are not only superior in quality and performance but are certified by GECA as the highest level of environmental preference.
Endorsed by the International Chiropractors Association
The King Koil range of bedding is designed in conjunction with the International Chiropractors Association for optimal spine support and postural alignment.
Key Features
King Koil boasts an array of innovative features designed to give you the best in comfort and support.
Leading spring technology, the Reflex Support System has been engineered to respond to your body weight and shape to provide correct postural support.
Uniquely designed AeroComfort technology combines layers of AeroWeb, AeroLatex, AeroFoam and AeroQuilt to provide superior pressure relief, comfort performance and breathability.
The world's most advanced foam technology, EvoFoam, makes up part of every King Koil bed and provides superior comfort performance. It's also a cleaner and greener product so you can rest assured it's as good for the planet as it is for your spine.
Approved by the National Asthma Council Sensitive Choice® program, King Koil mattresses are designed with fabrics and foams that protect from dust mites, mildew and bacteria
Dedicated to giving you the Best Sleep Imaginable
As technology continues to evolve, King Koil has continued to evolve with it, striving to achieve best-in-class quality and comfort by pursuing the latest sleep technology. Committed to designing, sourcing, manufacturing and selling the best quality sleep products at the best value; King Koil is the trusted choice.
With every King Koil mattress you can rest assured you're sleeping in a bed that is made from the highest quality materials with your health, comfort, support and the environment and sustainability in mind.
---
At Bedworks we are currently offering a $100 coupon on all King Koil Products. Simply buy any King Koil product from our extensive range and receive $100 off at the checkout.