How About the Chance to Win a New Car?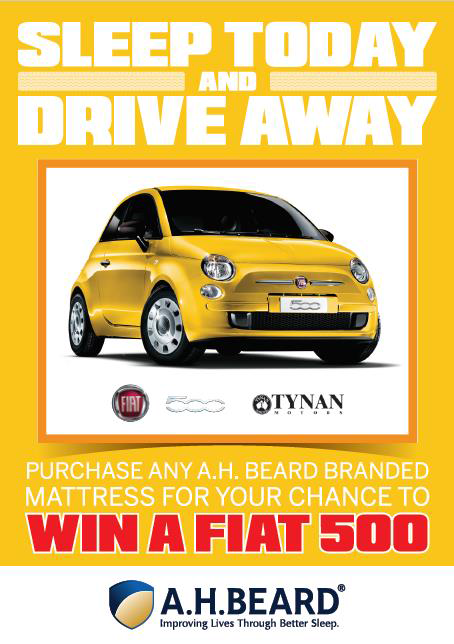 AH Beard, a company with a long and proud history of creating exceptionally crafted beds and mattresses, is giving you the chance to win a new Fiat 500 Pop. All you have to do is purchase an eligible A H Beard mattress in any of our Bedworks stores at Stanmore or Greenacre and you could be driving away in a sleek and stylish new car. 
It really is a win-win situation. You get to sleep on a first-class mattress of the highest quality that will have you sleeping like never before and, as a bonus, have the chance to win a new car. Sleep better in 2016 and take control of your health and well- being with a new mattress, and at the same time give yourself a chance at a new Fiat 500 Pop.
AH Beard has been renowned for producing lovingly manufactured, quality beds for over 100 years, and now they are giving you greater incentive to enjoy the comfort, support and exceptional craftsmanship that they are famous for.
Simply walk into Bedworks between the 7th of November 2015 and the 20th of December 2015, purchase any Domino or King Koil mattress from their long list of quality products, fill out a form and you could have a new car at your home just in time to celebrate the New Year.
There has never been a better time to buy a new mattress
Entries close the 28th of December 2015 and the prize is drawn on the 30th of December 2015.
*This campaign is eligible for mattress purchase only*