We spend so much of our lives in bed and sleep is directly linked to our overall health and well – being, so why not make our sleeping environment the best it can be? Creating the perfect bedroom is super important and doing so has never been easier. Here are 8 simple ways you can create the perfect bedroom that will help deliver the perfect night's sleep.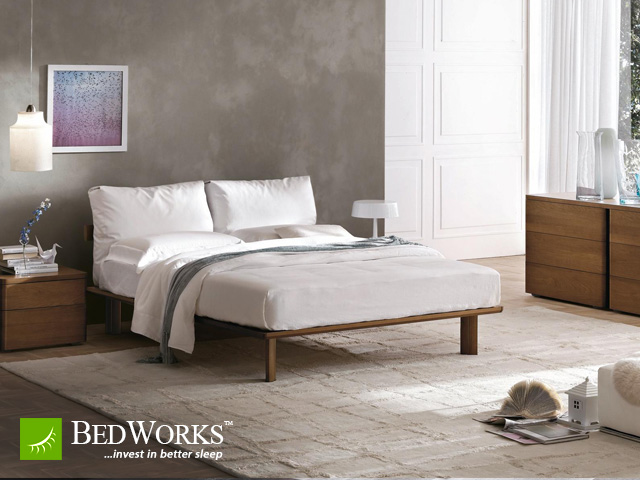 Lighting
Lighting is everything. You need a room that is flexible, one that can deliver complete darkness for a great sleep and also offer a heap of natural light for when you wake up. This allows you to be happy and energetic during the day and then perfectly rested and relaxed at night. Shutters, blinds, curtains and shades all make a variety of light possible and also help make your room look finished. A bedroom needs a good balance of function and comfort, and quality lighting like lamps and overhead lights are great for reading and also great for setting a mood. Mirrors are a great way to bring extra light into a room and help make it a perfect bedroom; they bounce light around a room and can give the illusion of more space for smaller bedrooms.
Pillows
We all know how important pillows are for comfort, but they also play a great role in making your room look appealing. Not having the right type of pillow or not having enough of them can prevent you from getting a good night's sleep. Find a pillow that is just right for you, and there are a lot to choose from – neck pain pillows, pillows for back pain, for side sleepers, back sleepers, and there's soft, medium and hard feel. Pillows and cushions really are the icing on a cake; they can make or break a great night's sleep.
Storage Space
A messy room leaves you no room to work or play. A messy room is also an unhealthy room full of harmful bacteria. You need storage in your room and there are plenty of ways to do so whilst adding style and class to your bedroom. Tallboys, bedsides, dressers, study desks with shelves, bed frames with drawers and fashionable storage boxes all add valuable style and practicality to your perfect bedroom. Most importantly they provide a cleaner, healthier room that makes a great night's sleep seem so much easier.
Add a touch of You
If you are going to be spending so much time in your bedroom you may as well make it all about you. Fill your bedroom with your personality, fill it with a book shelf full of books and movies you love, fill your bedroom with photographs of family and friends on your dresser and feature flowers and candles on top of your bedside table.
Colours
The colour of your bedroom not only has an impact on the appearance of your room but it can also affect the way the room makes you feel. Since we spend most of our bedroom time sleeping, it is important to choose a colour that is conducive to good sleeping.  You need to create a serene space in your bedroom that is calming and soft, and leave the bright, warm colours for the social rooms of your home.
A Comfortable Bed Head
Your bed is not only for sleep, for a lot of people it is the place for reading, studying, working and more. It is for this reason you need a soft, padded and super comfortable bed head / headboard. A bed head not only delivers these functional benefits but can also help create the atmosphere, style and visual appeal that you desire.
A Quality Mattress
You can have the perfect pillows, great lighting and a comfortable bedhead, but unless your mattress is perfect – you won't have a perfect bedroom. A good, healthy and nourishing sleep every night has a significant impact on your health, and many would say that your mattress has the biggest influence. If sleeping is something you are going to be doing every single day of the year, then it is absolutely worth forking out some cash and getting a high quality mattress.
Focus on Comfort
Being able to control your temperature during the night is paramount for a great night's sleep.  When it comes to your bed it's all about texture and layering. Blankets and embossed quilts are a nice touch for both comfort and visual appeal whilst quality sheets are critical for those searching for extra comfort. Whatever you do, make your bedroom comfortable. Your room is where you can be alone and where you will spend a great deal of time, you want to be comfortable in your room, so fill it with warm blankets, rugs, curtains, pillows, bedsides, desks, and tallboys.
Did we miss something? Let us know some of your bedroom tips that make sleeping a dream come true.