As we age, sleep disturbances can become more common. This is down to a range of factors; medications, injuries and changes in the body, and other physical conditions. Throughout our lives it's important to fit our bed to our changing needs. A good mattress for seniors doesn't just feel cosy and comfortable, it will also assist in improving overall sleep quality, crucial for feeling well rested and allowing the body to recuperate. So, let's break down the aspects involved in finding the best mattress for seniors and a good night's rest.

What is the best mattress for seniors?

Older people have different needs to young adults when it comes to beds. And because mattresses need replacing every 10 years, it's important to invest in a bed that can offer support for this next stage of life. The best mattress for seniors will help with getting a great night's sleep for years to come, as mobility factors and health may change.
Just like a good routine is required to get the quality 7 to 9 hours we need of sleep every night, a mattress needs a good balance of firmness and comfort. Firmness holds your body secure and provides support for backs and joints, assisting in recovery. Comfort and softness will allow for a relaxing, restful slumber, and cushion pressure points like shoulders and hips without causing pain or bruising. What mattress is best for will depend on how one sleeps, and how much support they need while still feeling comfortable.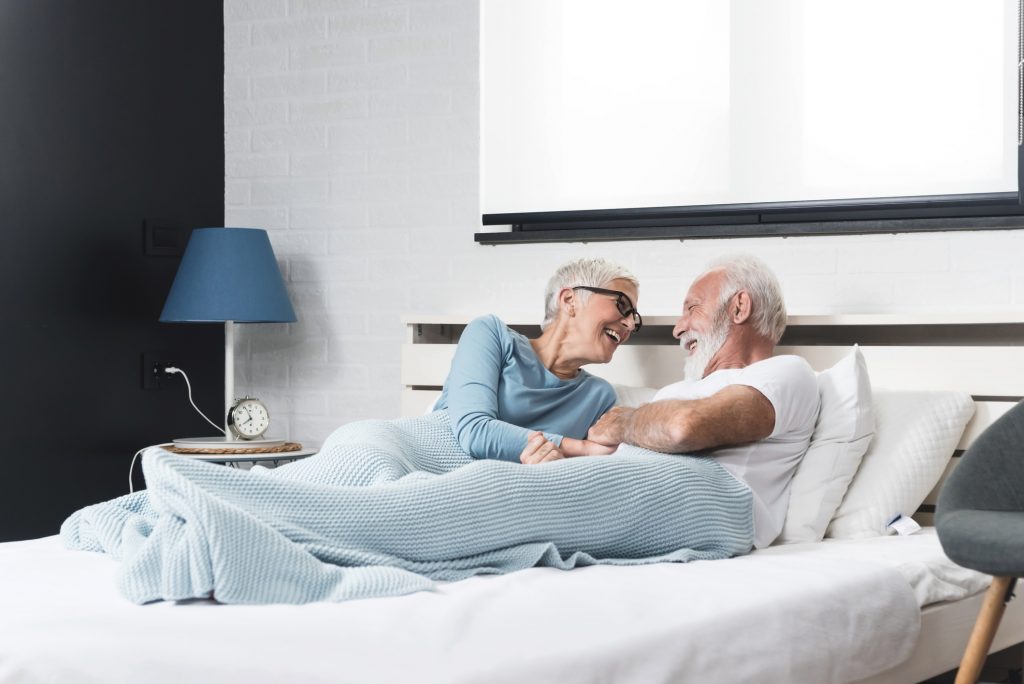 Choosing a comfortable seniors bed
For side sleepers — For lifelong side sleepers, a level of softness is important to cushion pressure points and avoid pain. Memory foam mattresses are a brilliant option for side sleepers, because they cushion and hug the body, allowing for the natural curve in your shape. A dense foam mattress will still offer medium firmness to help support the spine too.

For those who run hot — If someone tends to run very warm at night, a mattress with good airflow will keep their temperature regulated and prevent sleep disturbances. To assist with cooling even more, choose a spring mattress with a gel-infused memory foam topper that increases air circulation, ventilating the air and preventing the growth of bacteria and other allergens.
For mobility issues — Along with ageing can come mobility issues and reduced flexibility. To make sure getting in and out of bed is as comfortable and easy as possible, take into account mattress height and whether the bed is at a height which is low enough to comfortably sit and lie back on, but not too low that getting out of bed in the morning becomes a problem.

For body aches and pains — Cushioning in a mattress helps to relieve pressure on joints and backs, easing aches and pains for a better night's shut eye. Choosing a mattress that offers core support but has upper layers of foam or gel allows the body's natural contours to feel supported without being pressured uncomfortably.
Things to consider when choosing a mattress for seniors

Firmness — Getting the balance between what is comfortable for the sleeper and a firmness that will hold and support them is crucial. For senior couples, a mattress that minimises partner disturbance is a great option. This technology allows one partner to wake, readjust during sleep and even get up in the night without disrupting the other side of the mattress.
Height — The right bed height should feel comfortable to sink into at the end of the day and get out of in the morning. It's important to take into account both the bed frame and mattress height to choose the right seniors bed. For ageing people with reduced overall mobility, a mattress with an adjustable base makes things even easier, and allows for easy sitting in bed, an anti-snore option, and numerous positions to improve circulation and ease pain.
Temperature control — For those who feel the cold, memory foam's dense core allows for a cosy sleep every night. If you're in a warmer climate or run hot, make sure to select a well ventilated mattress that will provide airflow throughout sleep and keep things cool.

Durability and warranty — Invest in a durable mattress that will retain its shape and softness throughout its lifetime and you'll feel the difference. After all, a mattress is something we spend a lot of time in throughout our lives! As well as choosing a durable style and material of mattress that won't sag over time, give yourself peace of mind by opting for a mattress with manufacturer guarantee and extended warranty, like the one from Bed Works. Ideally, a warranty should last at least 10 years, the lifetime for an adult mattress.
The best mattress for seniors offers healthy support
The materials a mattress is made from are important for firmness, comfort and support, but they can also boost your health in other ways. Dust mites and other allergens can collect in mattresses, making them potential triggers for allergies and irritation. A hypoallergenic mattress that offers ventilation will reduce the amount of allergens and bacteria present in a mattress and keep beds feeling clean. Hypoallergenic mattresses can also draw moisture away from the surface, creating a cooling effect while they stay dry and fresh.
No matter what mattress for seniors you choose, get it at Bed Works
Whether you're shopping for yourself or choosing a mattress for an older loved one, Bed Works makes it easy to shop according to your needs for the best sleep possible. From extra firm mattresses to adaptive adjustable designs and ultra comfortable memory foam mattresses, you'll love the range of seniors beds at Bed Works, especially chosen for their quality and innovative designs. With a great sale range and options to suit every budget, it's never been easier to choose the perfect mattress for years of great sleep.
#investinbettersleep