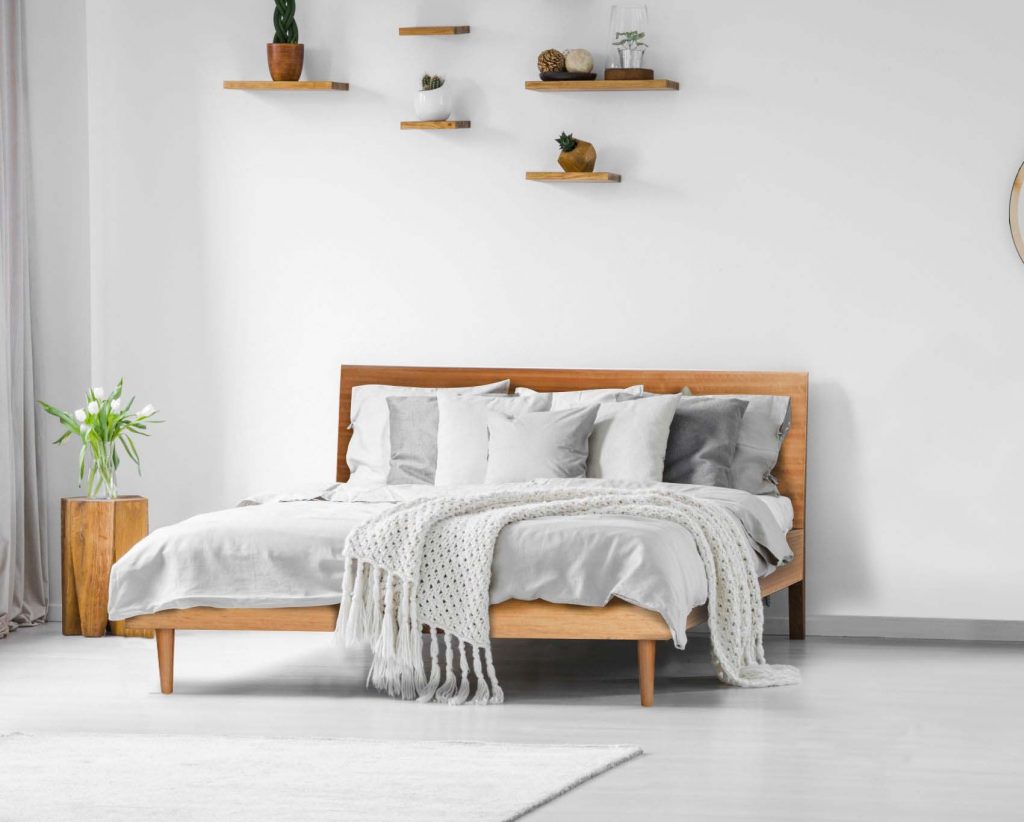 There's a lot of advice, competing for information and bold claims floating around when deciding on which mattress you should purchase. On the other hand, bed frames can often seem like an afterthought — after all, it's not like you sleep directly on them, right? While that might be true, the matter is that a good bed frame offers a foundational structure for your mattress, allowing you to experience its full benefits.
In this article, we'll run through the ways your bed frame acts as a support mechanism for your mattress, what features and materials they are to consider, what makes a good bed frame, and good places to buy bed frames that will last.
What makes a good bed frame?
Ultimately, the perfect bed frame for one person might look very different from your ideal choice — just as there are plenty of mattress styles for different body types and sleepers, bed frames differ according to our needs. In general, though, a good bed frame will do three key things:

Support your mattress to prevent sagging or warping
Elevate your mattress and provide a comfortable height for getting in and out of bed
Provide a stable base for your bed that will last
Of course, with so many options and styles on the market, finding a good bed frame that meets these three requirements can get tricky. Let's break down how to evaluate the different choices for your needs.
How to choose a good bed frame that meets your needs
When deciding how to choose a good bed frame that's comfortable and supportive in the long term, it can be handy to have a checklist in mind:

Support type

The most popular style of bed frame support is a solid platform or a style with slats that hold your mattress in place. If you have a particularly high and dense mattress, platform support can be a good option, as it will be more stable and better able to distribute your mattress' weight. However, platform bed frames aren't as good at circulating air and allowing your mattress to breathe. Slats can be a great choice if you live in a hot or humid climate or want to air out your mattress to prevent allergens like dust mites.


Freestanding and integrated bed frames

The largest difference in bed frame design is whether you want to opt for a freestanding or integrated style. Freestanding bed frames are designed to hold your mattress up with little to no decorative elements. This can allow you to find the most supportive style of support and mix and match headboards to create your desired final look. On the other hand, integrated bed frames are arguably more stable, as all the components are manufactured together.


Selecting the right height

Because your bed frame will last you years and even decades into the future, it's worthwhile considering issues like accessibility as you age. When choosing a bed frame, you ideally want one which will elevate you above the floor away from dust and other allergens but still feel comfortable getting in or out of bed.


Trusted manufacturers – There's no getting around it – bed frames are an investment, so this isn't the time to go for the lowest bargain you can find. Choosing a good bed frame from a quality manufacturer will ensure you have a solid, stable bed base made from safe, quality materials. At Bedworks, our selection of bed frames is made to a high standard for years of restful slumber.
What else should you consider when choosing a bed frame?
Size of your bedroom

The perfect bed frame will fit your mattress snugly while complementing your space and dimensions. If you have a more modest-sized bedroom, a bed frame with a slim profile will help avoid stubbed toes or cramped space. You may want to opt for a platform or even a built-in headboard style in a large space. Bedworks offers several made-to-measure options to ensure your bed frame fits perfectly.


Whether storage is an issue in your home

If you lack cupboard space, under bed storage can be a godsend. Many bed frames come with clever storage solutions like easy-close under bed drawers, perfect for a place where space is at a premium.


Your budget

It goes without saying that your budget should factor into your decision. A good bed frame doesn't need to be prohibitively expensive, but make sure to prioritise high-quality materials over decorative flourish when it comes to the final choice.


Your interior decoration style

You might be wowed by a plush upholstered style of bed frame in the store, but then bring it home to find it incongruous next to your laidback beach style. Or, what looked like chic and minimal timber online turns out to feel bare and unfinished in your home's decor. Consider how this major piece of furniture will work with your current style, and choose a bed frame with timeless details that will be able to stand up to redecorations and refurbishments in the future.


Assembly (and disassembly) requirements

If you're renting or planning to move, the last thing you want to deal with is a bed frame with a thousand screws and instructions. Consider the simplicity of assembly; it could be your best friend at delivery and moving time!


Environmental concerns

Whether it's allergies or a desire to support sustainable wood and eco-friendly materials, it is always a good idea to consider environmental concerns. Wooden bed frames are recyclable and hard to wear. They rarely trigger allergic reactions. At Bedworks, you can choose high-quality Tasmanian timber responsibly sourced for an eco-friendly option.
Shop Bedworks and find a good bed frame in a style you'll love
No matter what kind of bed frame is your perfect match, you're sure to find it at Bedworks — a good place to buy bed frames. Browse our high-quality, luxurious bed frames today and find a bed frame to elevate your sleeping experience. Still not sure which style is right for you? Get in touch with our team for product information, advice and more.