WHY CHOOSE MEMORY A FOAM MATTRESS
Memory foam is made from a substance called Visco-Elastic – it prevents and protects against pressure pain and is used widely in many industries and modern products.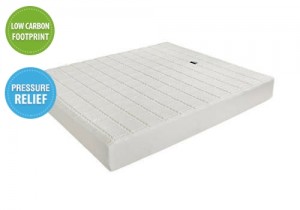 KEY FEATURES AND USER PROFILES
The most evident benefit of the Memory Foam mattress is that the heat from your body softens the material and moulds it to your body curves and natural lines. This means that your spine is completely supported whether you sleep on your back, stomach or side.
Partner disturbance is also minimized as there are no coil springs in the full Memory Foam mattress – tossing and turning by one partner will have a reduced effect on the other, as motion transfer is minimal. This makes the Memory Foam mattress ideal for those that are often woken by their partners' movements during the night.
Memory foam mattresses are recommended for:
Pregnant women – due to increased ability to support the spine and limbs so that side sleeping is easier on the body
People suffering from lower back pain
Allergy sufferers– memory foam mattresses are hypoallergenic, breathable and reject dust mites and other nasties that may cause difficulty in breathing during sleep
The elderly– the added support and memory foam's ability to 'line' the body completely offers extra comfort, even weight distribution offers relief from pressure point pain
Growing teens– to support their bodies' special needs as they grow and decrease risk of developing spinal abnormalities like scoliosis
Restless leg syndrome sufferers– the spine and limbs are supported which gives relief from the pain
Patients with pressure pain or pressure ulcers– by dividing weight evenly so no single point on the body will need to support more weight than the other
Couples suffering from partner disturbance – tossing and turning can be real issue that so often disrupts a good night's sleep and creates tension between partners
Soft memory foam mattresses are NOT ADVISED for infants.
Gel memory foam mattresses are an advancement of the 'regular' memory foam mattresses and more often than not offer temperature control and increased ability to adjust to your specific sleeping position and habits.
COMMON COMPLAINTS & WHAT TO CONSIDER
There are many benefits to memory foam mattresses, but the full memory foam version has drawn some complaints over the years. Memory foam mattresses without gel, pocket or Bonnell spring systems have said to be:
Too hot to sleep on during the night, increased sweating
Too soft – you sink into the mattress too much, movements are restricted
Anti – bounce effect – memory foam does not bounce back like a spring mattress does
To avoid these issues occurring and distracting you from good night sleep, choose between combination mattresses.
There are several combinations available i.e. Gel Memory Foam mattresses, Pocket Spring Memory Foam mattresses, Bonnell Spring Memory Foam mattresses, Temperature Control Memory Foam mattresses and so on.
Tip: To help you with selecting a mattress that is just right for you – have a list of pros and cons of a mattress prepared. Write down issues you very much like to avoid (overheating, motion transfer, sinking) and pros you really look forward to having (lumbar support, temperature control, even weight distribution).
PRODUCT RECOMMENDATIONS
We sell many different types of Memory Foam mattresses made by several different manufacturers – AH Beard, Domino and Mangniflex, to name a few.
We are especially proud of the Magniflex range. This Italian mega-brand represents Bedworks' values best and has been named one of the best in the world due to their exceptional quality, safety ratings, health benefits and comfort. Magniflex mattresses are in a separate price category of their own, but if ever there was a price on health this is it.
Benefits of Magniflex mattresses and pillows:
Magniflex like some other European Memory Foam mattress manufacturers offer a very high quality material. They are also ahead of the curve in using formulations that have less toxic ingredients and less off-gassing issues. The more extensive use of MDI instead of TDI in making their foam is a part of the reason Magniflex have passed OEKO–TEX® Standard 100 material testing against harmful substances and this means their products are safe for babies.