We all need a good night's sleep to make the most of our days. For children, sleep is especially important, as their growth and development is much more accelerated than we adults. In fact, kids should get between 10 to 12 hours a night to give them the best chance to rest, recharge, and develop healthily. A good mattress is not only comfortable to allow for a better night's shut eye, but getting the right type of mattress helps to support growing bodies, promote good posture and set up great sleep habits for life.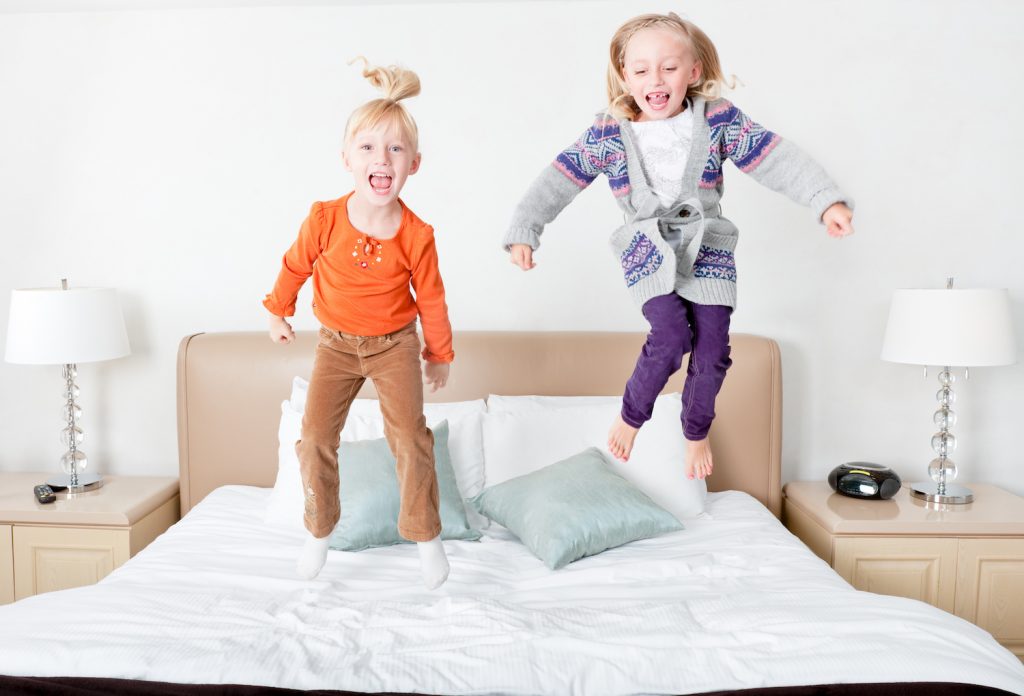 How firm should a mattress be for a child?
So, how do you decide what mattress is best aiding your little one's sleep? And how firm a mattress should be for a child? To help you make the best possible selection, we've created the ultimate guide to the different types of mattresses, weighing up the benefits and the level of firmness best for your child.
Factors to consider when choosing your child's mattress
Remember the fairytale of Goldilocks and the three bears? Finding the perfect mattress is a little bit like Goldilocks sampling bowls of porridge and beds to find the 'just right'. Every child is different and their 'just right' will vary, but a good mattress will balance proper spinal support with their personal comfort to help them have nothing but good dreams.
Generally speaking, a firmer mattress will offer more support. Mattresses on the firmer side are therefore ideal for larger children who weigh more, and for younger children and babies, who tend to toss and turn less during the night. If your child sleeps on their side at night, a slightly softer mattress may be a good option, to ease pressure on their joints. Letting your child have some say over the firmness of their mattress also gives them a chance to feel comfortable in their bed and set up good nighttime habits and healthy sleep hygiene.
What is the best firm mattress for a child?
There are several types of firm mattress made from different materials which affect their level of support, how easy it is to move in them, and therefore what choice is right for your child. Here's a guide to some of the most popular materials.
Memory foam mattress – When it comes to ensuring a child's comfort, memory foam is an ideal choice. Because memory foam moulds to the sleeper's shape, sideways sleepers won't feel any pain on hips, shoulders and other pressure points. It can also reduce the amount your little one tosses and turns throughout the night, helping them settle and sleep more deeply. Memory foam does have lower airflow which can be a potential problem for younger children who aren't as good as adults at regulating their own body temperature.
Full foam mattress – A full foam mattress will offer good firm to extra firm support for sleepers, and can also assist restless sleepers and prevent rolling. Full foam mattresses are a more budget-friendly option, making them a good transitory mattress for children who outgrow mattresses quickly.
Coil mattress – Considered to be one of the firmest types of mattresses, the coil design provides excellent support for developing spines. The enhanced stability of a coil mattress does make it less adaptable quickly growing bodies, and it may be less responsive for children going through growth spurts. 
Pocket spring mattress – A pocket spring mattress is similar to a coil mattress, but is made up of even more small springs throughout its structure. This means that it's even better at retaining its shape and firmness over time, making it a durable option lasting children several years.
What type of children's mattress should I choose?
Finding the best firm mattress to suit your child will depend on their individual needs. When it comes to making your choice, it can be helpful to determine what your priorities are in a mattress.
For babies – a firm mattress that assists your baby in turning over and also gives them spinal support is key. Look for cot size mattresses that have good airflow to keep them cool and comfortable throughout the night.
For toddlers – A firm mattress is still important for toddlers. Take into account their level of comfort as they start to set up lifelong sleeping habits, and choose a mattress that can adapt to rapid growth and support posture.
For young children – Again, children may grow a lot during this period, so choose a mattress that has plenty of room for them to comfortably fit, and will retain its shape even as they change theirs. A pocket spring mattress is a great choice for this phase of their lives. 
For teenagers – Teens can go throw a second growth sport and experience growing pains, so a firm yet supportive mattress is crucial for them. You may prefer to choose a double or larger size mattress that can take them through to adulthood. Because teenagers can regulate their body temperature, memory foam and other foam mattresses are a great choice for them.
Taking care of a kid's mattress
Even though they might have them for a shorter amount of time, a children's mattress needs to be taken care of for them to have the best sleep possible. Hypoallergenic mattresses offer great protection for dust mites and other allergies that children may suffer from, and choosing a hypoallergenic mattress will extend the life of the mattress for longer. Many children go through a bedwetting stage, or may sweat through warmer nights. Over time moisture can damage a mattress, so choosing a waterproof underlayer can also be a great way to boost the life of your mattress.
How often do children's mattresses need to be replaced?
Although children require a firm mattress similar to adults, their mattresses do have a shorter lifespan. A quality adult mattress can last from 7 up to 10 years, while children's mattresses require replacing more frequently. Often, children may outgrow their old mattress before it's completely 'worn out' too. If you've noticed your little one getting a little too big for their bed, or are concerned that their mattress is no longer contouring to and supporting their body, it's always best to invest in a new mattress with the fitness and size they need.
For the best mattress selection in Australia for babies, children and teens, check out the collection of kid's mattresses from BedWorks, and help your children invest in a better night's sleep.