Help us Celebrate & Let us Thank you
For a decade we have been fortunate enough to offer a dedicated bedding solution to our valued customers. It has been a great journey; we have brought you the highest quality products from all the leading brands, given you the most innovative and state of the art mattresses, been a leader in delivering a great online shopping experience and opened a massive second store in Greenacre to give you more convenience and deliver the best customer service possible.
Up to 40% off all Upholstered Custom Made Beds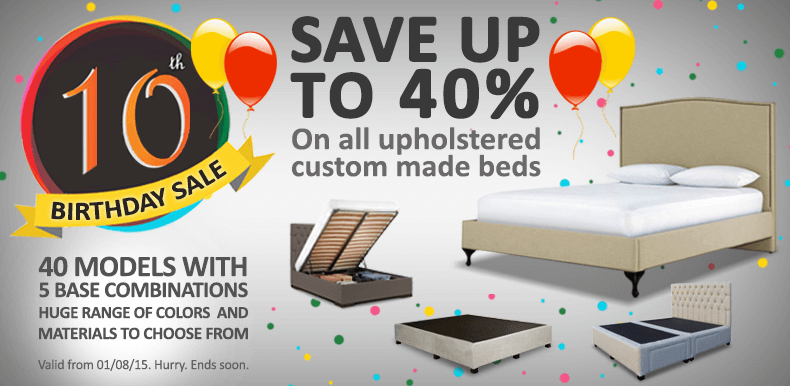 This is our little way of saying thank you – Up to 40% off all upholstered custom made beds. With 40 models to choose from and 5 base combinations, the 'Bedworks 10 Year Anniversary Sale' can't be missed. Enjoy a huge range of colours and materials to find a quality upholstered bed customised to suit your specific needs.
10 Years of Dedicated Customer Service
Since we opened our first store on Parramatta Road in Sydney in 2005 we have been dedicated to continually going above and beyond the call of duty in providing first class customer service. Not only are we dedicated to great customer service but we are passionate about providing our customers with top quality beds and bedroom furniture at remarkably low prices. The best quality products at the best prices teamed with our dedicated customer service is the reason Bed Works is still, after 10 years, the trusted choice in bedding and bedroom furniture.
The Future is Bright with Bedworks
With two large retail outlets in Sydney, Stanmore and Greenacre, and a comprehensive online store, Bedworks continues to strive to give you the finest range of bed frames, mattresses, bedroom furniture, pillows and bedding from Australia's leading brands. We will continue to offer you the most innovative and state of the art products, continue to align ourselves with valued partners like Mission Australia and continue to give you the best prices.
Bedworks… Invest in Better Sleep