Everywhere you look the organic craze is continuing to build momentum. The most talked about is obviously food, from eggs to fruit and vegetables the organic noise is getting louder and louder. If organic food is so important for our health – what about our mattress? Should we go organic there too?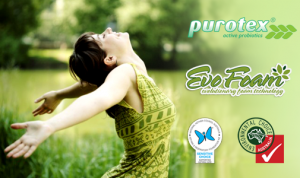 We Spend Almost 1/3 of our Lives in Bed
We spend almost 1/3 of our lives in bed, so obviously with so much of our lives spent there, what we sleep on has to be super important. We have to view our mattress as a long term investment that will not only look after our comfort and support, but most crucially our health.
Sleep and Health
We have long recognised the important relationship between our mattress and our health, so choosing the right mattress is critical. We all know sleep plays an important role in our health and wellbeing. With 1/3 of our lives spent on a mattress and direct links between it and our health, surely we need to think long and hard about our mattress of choice.
Eco-Friendly
Many people are becoming more concerned with how the products they buy affect the environment, and as a result there are a wide range of green and eco-friendly options for the bedroom. Eco Friendly mattresses are a healthy choice made from 100% natural materials that are free from any harmful and hazardous substances.
A Healthier Sleep
What does an organic mattress mean for our health? Dust-mite repellent, mould-resistant and anti-bacterial, chemical free, absorbent, breathable, environmentally friendly, made from biodegradable materials, reduces your carbon footprint, great for sufferers of asthma and hay-fever and all-natural.
What about Comfort?
Okay great, I'm not breathing in any harmful toxins but what about actually being comfortable? Organic mattresses deliver the best of both worlds – heathy and comfortable. Organic mattresses are characterized by their ability to support the body and alleviate pressure, whilst simultaneously regulating body temperature to help you sleep warmer in winter and cooler in summer.
Doesn't it Cost More?
We don't have to go far to see that organic usually costs more. A simple stroll down the supermarket aisle and you will quickly see organic prices far outweigh their non-organic counterparts. But we are willing to pay the difference knowing our health, and the happiness it will give us, is worth the extra money.
When it comes to our health it is vital we take a holistic approach. If we are looking after our health by watching what we eat and drink and looking after our health by undertaking regular physical activity, then it seems logical that we should also look after our health by watching what we sleep on. At first it might seem like a mattress won't make a big impact on your health and well-being, but research, science and life tells a different story.