Pillow tops are inner-spring or latex mattresses that have a top layer of another material such as feathers, memory foam or latex, to provide a luxurious cushion.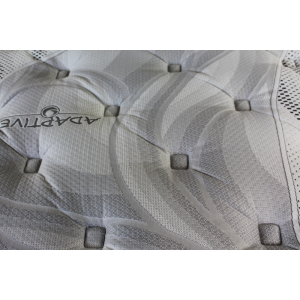 LUXURIOUS AND LONG LASTING
Pillow top mattresses are normally considered more luxurious and costly than other mattresses as the cushion topping on the mattress adds to the cost. The downside of most pillow tops is that they can't be flipped over to prevent from wear and tear – unless it's a double-sided pillow top mattress – but that aside, they certainly do act and feel like you're sleeping on a cloud.
Pillow tops feature extra layer(s) of cushioning over the mattress body. There are single sided (more common) and double sided pillow top mattresses available – if the extra layers of cushioning are sewn on to the topside of the mattress, then it is called a single sided pillow top, whereas the double sided will have the soft padding feature on both sides of the mattress.
In case of a single sided pillow top, you can't flip the mattress over to help maintain it like you normally would with other types of mattresses. This will not be a huge problem with modern mattresses though, as the manufacturers have considered this restriction.
In any case, most pillow top mattresses are usually long-lasting and resistant to wear and tear. It is not uncommon for pillow top mattresses to last 20+ years.
KEY FEATURES OF A PILLOW TOP MATTRESS
Pillow top mattresses are made with extra layers of cushioning to offer a fantastically soft feel, but also come with firm layers for support and are often described as the type of mattress that you 'sink' into – in a good way. They are considered the best and most luxurious of all mattresses.
Luxury
Comfort with great support
Pain reduction and relief
Longevity – outlasting other mattresses, long warranty periods apply
Sleep motion absorption, minimizing sleep fragmentation
Spinal alignment and support
Body contouring, natural body curvature lining
Even weight distribution
Temperature control functionality
All pillow top mattresses allow for natural spinal curvature and body contouring with maximum support while minimizing pressure pain. The fine balance between softness and firmness is what makes pillow tops so popular and also pricier than others. Pillow top mattresses can feel "too soft" and cushiony for those used to sleeping on firm or hard surface but are actually one of the most supportive types available.
PRICING AND WARRANTY FOR PILLOW TOP MATTRESSES AT BEDWORKS
Our pillow top mattresses come in all sizes (single, double, queen, king) and there are many different types available – pocket spring, innerspring, memory foam, latex, plush latex, orthopaedic, temperature control and double sided pillow top mattresses.
Prices on Pillow top mattresses range from $129 for OP Deluxe Pillow Top Mattress and up to $4,499 for our luxury pillow top mattresses with many options in between.